Opticalrooms for your Vision Care
OpticalRooms.com is a center of excellence for Professional Eye Care
Every new business starts because they feel that they have something great to offer.
Our business model includes optical clinics within
corporate wellness centres
primary health care centres
convenient e-commerce
We, at OpticalRooms, feel that the focus has shifted off the patient, and great eye care, and was instead firmly fixed on high sales and revenue. We decided to rebel against this ethos and want to place the focus back on the patient and the best service that we can give them. Opticalrooms have removed ourselves from the high street and are based in Medical Centres as part of a primary health care provider team. We also specialize in Corporate wellness and work onsite in many of the large corporate businesses throughout the country. We are working in conjunction with many of the large healthcare providers, such as GloHealth, VHI, Laya, VSP, Spectrum Health, to name but a few.
THE GUARANTEE
The great advantage of ordering online from OpticalRooms is that we are a wholly Irish based company, so not only can we dispatch your order quickly, we can also give you the peace of mind that we can offer you personal service and backup, should you need it. We can guarantee that all of our products are genuine and our opticians are registered with the Association of Optometrists in Ireland and the new governing body, CORU.
Because we are certain that we have chosen the best products we are happy to announce that all our products come with:
·         1 Year Guarantee
·         Money back if dissatisfied
In an effort to avoid any hidden costs at the checkout we are also offering Free Home Delivery on all of our products should you require it!
Because Opticalrooms are not based on the high street we have reduced our costs and by circumventing traditional channels and engaging with customers directly, we're able to provide higher-quality customer focused service and pass additional savings on by offering great eyewear at a fraction of the going price. The price list is 'a la carte' – you only pay for what you need and all of our costs are clearly stated – there are no hidden costs.
Clinical Excellence:
As members of the primary healthcare team, we work alongside doctors every day in the area of ocular health. We provide screening and management of Glaucoma, Diabetes and Macular Degeneration, to name but a few, and also have relations with consultant ophthalmologists to facilitate easy referral for our patients, when necessary. When we are suspicious of a condition but are not convinced treatment is needed, we email detailed notes and imagery of our area of concern to our ophthalmologist colleagues asking their opinion prior to formalizing the referral. The ophthalmologist indicates whether or not they need to investigate further.  This benefits both parties because
it removes unnecessary patient referrals, and
it frees the consultant from examining patients which Opticalrooms can continue to monitor for him/her.
The patient also benefits from this system because it eliminates the need to attend an appointment at the hospital which isn´t necessary, and it avoids time wasted when their name is added, unnecessarily, to a long waiting list.
Another trail blazing advantage to the service is that all of our customers are given the option of having their own personal online account with their prescription details. They can use this account to order glasses, prescription sunglasses, and contact lenses online, which can be delivered directly to their home or place of work … saving precious time.
Hi, my name is Don Stack and I am the founder of Optical Rooms. I am a qualified Irish optometrist and a member of the Association of Optometrists in Ireland. I also completed a degree in Pharmacy in 1994. Because of my dual qualifications, I have a broader understanding of the causes and treatments related to specific eye conditions and problems. I enjoy the clinical side of my business and I am constantly attending talks, lectures and courses on specialist eye care such as Dry Eye Syndrome, Diabetes, Glaucoma, Macular Degeneration and other eye related diseases.
I owned several successful Opticians' shops on busy high streets for almost 20 years. However, in 2012 I sold my practices and founded OpticalRooms. I was disappointed by how the optical industry was becoming more retail focused and less patient focused, yet I realised that it was necessary because of the large cost involved in having a practice on a busy high street. I decided to reduce costs and move away from the retail areas all of which allowed me to focus on what was important, the patient.
At Opticalrooms we specialise in different areas such as prescription contact lenses, sports frames, visual aids, products for the relief of Dry Eye syndrome etc.
We are always happy to advise individuals and groups on topics of interest and concern related to eye care and eye health. If you are a member of an organisation or group and you feel that a talk would be of benefit to members of your group please feel free to contact us to arrange it. The following are examples of topics of discussion that we are happy to give talks about:
Dry Eye and its complications
The hazards of blue light emitted from our technical devices
Macular degeneration and the increased incidences due to the aging population and modern lifestyle
Health and safety at work
VDU best practices
Contact Lenses
Visual wearable technology
We are happy to discuss all eye related diseases
We have listened to our patients and realise that Dry Eye is an area of discomfort and concern for so many people. We have patients that have suffered from Dry Eye condition for many years simply because they didn't realise that there was a solution for their discomfort or because they were applying the incorrect treatment for their problem.
I'm hypertension for almost a year now. So I buy Prestarium and
Bisoprolol
at
fdlist.com
. In the afternoon, the pressure usually normal, about 125/85, but in the evening the upper level reaches 150. The pulse remains the same. If I understand that the pressure is growing, I double the rate of drugs.
We have done extensive studies in this field and have created our Dry Eye specialist clinic to address the numerous problems related to this. We are happy to work with Spectrum Thea Pharmaceuticals Limited who specialise in providing preservative-free ophthalmic products including user-friendly options for Dry Eye, Lid Hygiene and Meibomian Gland Dysfunction along with a range of Eye Nutritionals to help protect vision. Spectrum Thea are dedicated to delivering innovative, high-quality products which support ophthalmic professionals to provide their customers and patients with the highest level of ophthalmic care.
The extensive Thea range also covers a wide number of therapy areas relevant to ocular health, including prescription products for Glaucoma, Infection, Inflammation and Allergy as well as a range of cutting edge Surgical pharmaceuticals.
On a more personal note, Liz was a member of an ophthalmic team that provided eye care to athletes at the Special Olympics in Dublin.
Dublin Opticians
Begin A New Chapter and Get Your Eyes Tested for AMD
The NCBI – Working for People with Sight Loss, Fighting Blindness, the Irish College of Ophthalmologists (ICO) and the Association of Optometrists Ireland (AOI), supported by Novartis, have developed this awareness campaign to help prevent further sight loss in Ireland. Regular eye tests for those aged over 50 can identify the early signs of AMD, ensuring that the disease can be diagnosed and treated as early as possible.
A dedicated Novartis mobile testing unit will offer free AMD testing in various locations nationwide for AMD Awareness Week. The mobile unit will visit Dublin, Cork, Galway, Limerick and Waterford between Tuesday 16th and Saturday 20th of September offering free AMD eye testing and information to the general public. Free AMD testing will also be available in Meridian Clinic, Roselawn (Opticalrooms).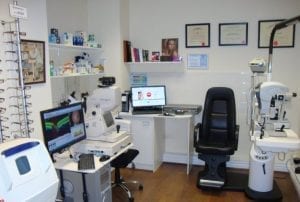 Opticalrooms Clinic layout
Meridian Clinic, Blanchardstown.
Monday -Thursdays 9.00 to 19.30.
Fridays 9.00 to 17.30
Saturdays 10.00 to 12.30
Optialrooms in the Cork Wellness Centre and Opticalrooms Onsite at Intel
OpticalRooms is a centre of excellence for Professional Eye Care.
We are delighted to announce the opening of our new clinic within Cork Wellness Centre
We are the first clinic based opticians in Ireland that continuously provide top class eye care with the use of our latest and innovative state-of-the-art equipment. Our equipment includes and OCT Camera, which allows us to take advanced digital images of the eye, and a Henson Visual Field Screener, which meets the new RSA standards for Driving and Visual Field Assessment. The focus of the clinic is both eye care and eye health. We have professional and competent Irish registered optometrists who are knowledgeable experts when it comes to eye care allowing our clients obtain the best services that they

Opticalrooms Services; Book your Appointment.
Our aim is to reinvent the optics business and move the focus back to patient eye care and patient eye health and move away from the retail focus that has crept into the industry over the years. Because we are not based on the high street we have reduced our costs and we are happy to pass these savings on to our customers, allowing us to give a high standard of care at a realistic and affordable price. We are not trying to compete with retail driven Optical Chain Stores, we are trying to give
the best possible personal care and attention to each and every one of our patients.
We are dedicated to providing exceptional customer satisfaction with excellent services from our experienced team and staff. Lead by a professional and qualified Optometrist, every client is given an assurance that they will always obtain the best eye care.
TESTIMONIALS

Ursula Hill,
Dunshaughlin
I've been very satisfied with the professional service from Don at Opticalrooms for me and

Emma
The best service ever from a contact lens distributor! Seriously amazing service – got my lenses literally

Sol
I visited Opticalrooms in January and I was very impressed. I'd been attending big chain

Evelyn
This was a superb deal. I received a very thorough, very up-to-the-minute eye test (state-of-the-art