BlueLite Glasses Stepps
BLUELITE GLASSES STEPPS
Titanium is considered to be one of the most robust, tough and corrosion-resistant
products in the world. It is mostly used for aircraft and automotive products. The
benefits of a titanium frame are that it is lightweight (40% lighter than other metals),
durable (perfect for everyday use) and skin friendly (hypoallergenic).
The Stepps frame has a lightweight oval design with a military style triple accent on
the temple for a durable design detail.
This high bridge and unisex deep frame is suitable for all types of prescription.
Colour choices:
Obsidian/Black,
Gunmetal midnight blue
Gunmetal chocolate brown
We all know that we need to wear sunglasses for protection from sunlight. We now need to recognise the need to wear computer glasses/ blue light blocking lenses to shield our eyes from direct exposure to blue light.
In a world where we live surrounded by screens, spending many hours a day in front of some form of digital device or another, we need to pay attention to the effects. We use these devices at work, on the road and at home, often holding them at a short distance, forcing our eyes to have to constantly refocus.
These devices emit blue light, and since our eyes aren't protected against this overexposure, the light can be detrimental. Protecting your eyes from this high-energy visible (HEV) light can significantly mitigate the risks of retinal degenerative diseases.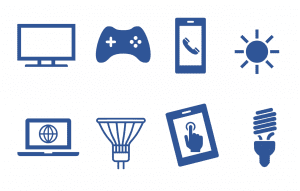 How do these devices affect our everyday lives?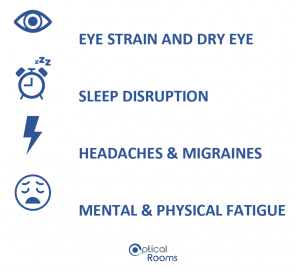 Our glasses lenses neutralise the high energy visible light emitted by LCD and LED screens. Using these glasses you will find that your eyes are no longer strained, dry and irritated after long periods of usage on your digital devices. You may also notice that your headache and sleep problems will be reduced or disappear completely! Another advantage is that by using blue control glasses you will greatly reduce the dangers of overexposure to blue light and the likelihood of suffering from macular degeneration.