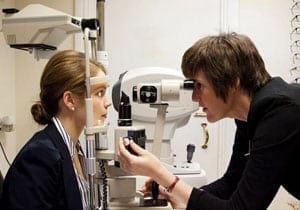 For older patients, a range of specialty screenings are provided with our examinations, including examination for rare conditions such as, glaucoma, cataracts, and macular degeneration. Our optometrists have both the patience and the expertise necessary to develop an accurate diagnosis, as well as to prescribe effective treatments. We also work closely with specialty trained ophthalmologists when surgical intervention is required.
From Reviews On
WhatClinic.com
Our optometrists rely not only on standard eye examination tests, but also advanced 3D eye imaging equipment to make correct diagnoses. No matter which location you choose, OpticalRooms will provide you with hospital level optometry care with minimal waiting. The examination process is designed to be quick and effective, usually lasting no longer than thirty minutes from start to finish. In some situations, a follow up appointment or a referral to a specialist may be necessary. Normally, however, the patient is prescribed glasses and contact lenses on the first visit.
All examinations and screenings are provided at affordable prices. Medical cards are accepted and cover basic services. Once examinations have been completed, customers can choose between a variety of eyeglasses of different styles and colors in our show room. From the initial screening to the placement of your order, we provide courteous, convenient service.

After the consultation, the patient is sent an email with a link to our virtual online store. At the store, patients can review their prescriptions, as well as shop for glasses and contact lenses. OpticalRooms offers a choice between hundreds of different styles for men, women, and children, all at competitive prices. Patients can order from home at their earliest convenience and have glasses or contact lenses shipped directly to their front door.
Our goal is to offer advanced eye care at an affordable cost with minimal inconvenience for the patient. With this in mind, we've staffed our locations with highly trained, professional eye care doctors that have the best technologies available at their disposal. Because of our commitment to excellence, we're able to offer optometry services with minimal wait time to our patients. To further improve our relationship with the patient, we've designed our web site so that glasses and contact lenses can be purchased at home through our virtual store. Stop by one of our many locations throughout Ireland today for more information and to get started.